Bitch Be Trippin'
BITCHES-BE-TRIPPIN 07-16-14
BITCHES-BE-TRIPPIN: WOMAN FEEL SEXUALLY THREATENED BY OTHER WOMAN WEARING RED
A study, published in the Personality and Social Psychology Bulletin, finds that female onlookers, when shown photos of another woman wearing red, jumped to the conclusion that she would be a sexual threat.
Researchers did three experiments, showing female subjects photos of other women dressed in red and in white dresses, and then in red versus green shirts. They hypothesized that the color red would be a "sexual receptivity cue and that this perception would be accompanied by rival derogation and intentions to mate-guard," according to the study. "It helps us make sense of other people's behavior when women are out in red and they are getting the cold shoulder from other women. "Maybe they are giving off the perception of a romantic competitor." BITCHES-BE-TRIPPIN'
BITCH-BE-TRIPPIN: WOMAN DUCK FACES FOR MUGSHOT
Authorities were summoned to a Quality Inn after Green refused to check out of her hotel room. She had rented the room Friday night and was supposed to leave the room by 11 a.m. Saturday. Police say officers arrived and told Green she needed to rent the room for an additional day or leave the premises. Green then became upset with officers and refused to cooperate, officials say. They added officers discovered Green had given them a fake identity. Though she put up a bit of a struggle, Green was placed under arrest and taken to the police station where authorities snapped Green's much-talked-about picture. Green was charged with obstructing official business. She was later released on $354 cash bond. BITCH-BE-TRIPPIN'
BITCH-BE-TRIPPIN: WOMAN ATTACKS EX...SMASHES INTO CARS IN THE PROCESS
A woman's anger turned into a rampage as she tried to run over her ex and instead rammed into three cars after he refused to restart their relationship, according to a police arrest report. Police responded to the hectic situation on Sunday after a man reported the mother of his children, Dynesha Bonner, 22, of Delray Beach, was upset after he refused to get back with her. The rejection triggered an outburst in which Bonner got in her car and tried and run him over. But when the victim dodged, she rammed a 1974 Chevrolet Impala, then backed up and rammed it several more times, according to the report. The victim went inside, but said he was chased outside by a broom-wielding Bonner. That's when Bonner tried to run over the victim again. But this time, she hit a 1993 Toyota Camry and a 2004 Chevrolet Impala as a 71-year-old woman was trying to get out of the car. She was caught the next day by cops and was arrested. BITCH-BE-TRIPPIN'
BITCH-BE-TRIPPIN: "BRITISH KIM KARDASHIAN" BLEW $30,000 ON SURGERY TO BECOME A KIM KLONE
A 25-year-old British woman has spent nearly $30,000 on surgical procedures to keep up with sex tape star and famous famous person Kim Kardashian. Claire Louise Leeson started the kardashification process when she was just 17, and now has bigger boobs, whiter teeth, and so, so much spray tan. Appearing on the U.K. talk show, she explained that she wears pants with silicone padding to fake Kim's famous booty, but she's considering getting actually butt implants as a next step. BITCH-BE-TRIPPIN'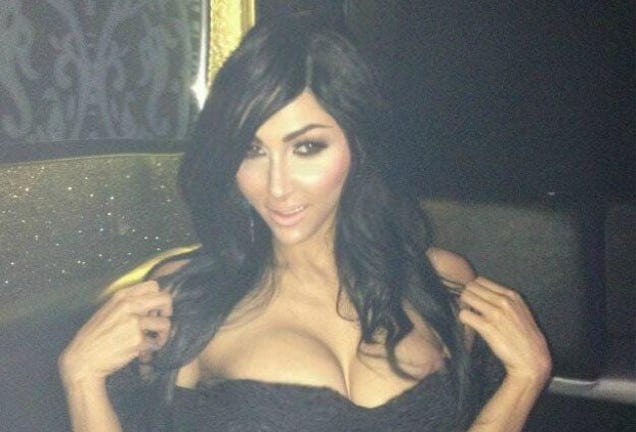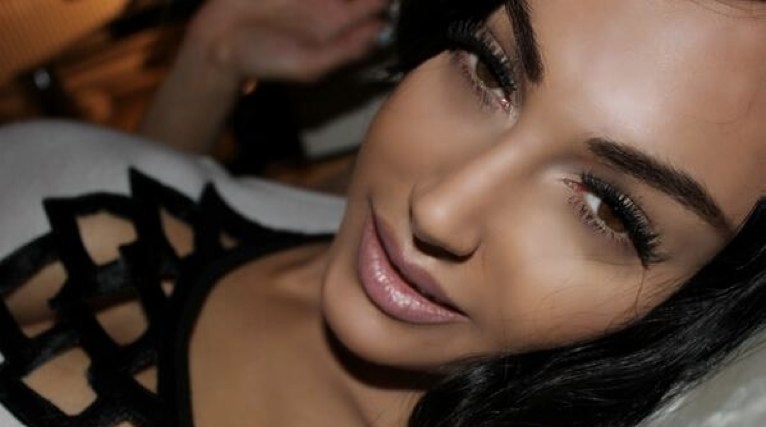 BITCH-BE-TRIPPIN: WOMAN FAILS DRIVER'S TEST 110 TIMES!
28-year-old from Englad has tried and failed to get her driver's license 110 times.  Apparently in London the driving test has a 64% passing rate.  She isn't the only one, though.  A 30-year-old guy failed it 86 times and a 41-year-old guy finally passed it on his 80th try. BITCH-BE-TRIPPIN'
BITCH-BE-TRIPPIN: A wOMAN STRIPS AND DOES YOGA IN THE MIDDLE OF THE STREET...TURNS OUT SHE WAS A HEROIN
An Ocala, Fla., woman was arrested in the middle of a roadway where cops said they found her Wednesday doing yoga poses in her panties. She  admitted she had just injected herself with heroin, cops said. She was arrested and is looking at numerous drug charges. BITCH-BE-TRIPPIN'
BITCH-BE-TRIPIN: WOMAN SAYS SHE WAS KIDNAPPED AND FORCED TO SOME METH
Wichita Police are investigating an alleged kidnapping. A woman contacted 911 early Sunday morning to report that she had been kidnapped Thursday evening from a northeast Wichita parking lot. The woman tells police that a man approached her in parking lot of the Walmart and 29th St. N. and Rock Road. Armed with a knife, the man then forced her to drive to an unknown motel on S. Broadway. Sgt. Ed Brower says that the woman reported the suspect then forced her to smoke meth for several hours. She was eventually released, but it's unclear how long she was held. The suspect is described as hispanic, around 5'6" tall and weighing around 180 pounds. He has dark, buzz cut hair and was covered in tattoos. Police are still investigating. On a probably unrelated note: The victim...whose name hasn't been released, had been arrested in the past for smoking, dealing, and possessing meth MULTIPLE TIMES. BITCH-BE-TRIPPIN'
BITCH-BE-TRIPPIN: COLLEGE STUDENT STABS MAN IN THE HEAD
A student is in police custody after a stabbing at Wayne County Community College. Police on campus tell us it's the first time they've dealt with this level of violence inside one of its buildings. Two students were involved in an altercation and one of them pulled a knife. Between the hustle and bustle of academic life, students at Wayne County Community College learned someone inside this building took a knife to a fellow classmate. "Shortly before six o'clock, two students at the northwest campus were involved in an altercation," says Wayne County Sheriff. Sheriff says a female student stabbed a classmate in the head. Fortunately for the man, officers say he suffered only minor injuries to his scalp, and was not hospitalized. But the woman who stabbed him was taken into custody. The female student is under arrest and we will be conducting an investigation through the Wayne County Sheriff's office and presenting our information to the prosecutor. As investigators piece together how and why this stabbing took place, police on campus say the violence is not something students normally see. BITCH-BE-TRIPPIN'
BITCH-BE-TRIPPIN: DRUNK WOMAN TRIES TO BITE COP IN HTE PENIS
A Australia woman has been charged with twice attempting to bite a police officer on the crotch. But the officer managed to avoid the bite both times. The 26-year-old woman was arrested at McDonalds in Busselton at midnight, after reports she had been disturbing other customers. She was taken back to the police station to be charged and processed. The woman lashed out at a male Senior Constable in the charge room. "She threw a cup of water at him, and then she went to bite him in the genital area," he said. "I don't think she made contact — he pulled away. "She then bit him on the hand — he had gloves on — and tried to spit at him." BITCH-BE-TRIPPIN'
LISTEN TO THE HEAR WHAT STORIES YOU CALLED IN ABOUT
Bitch Be Trippin'